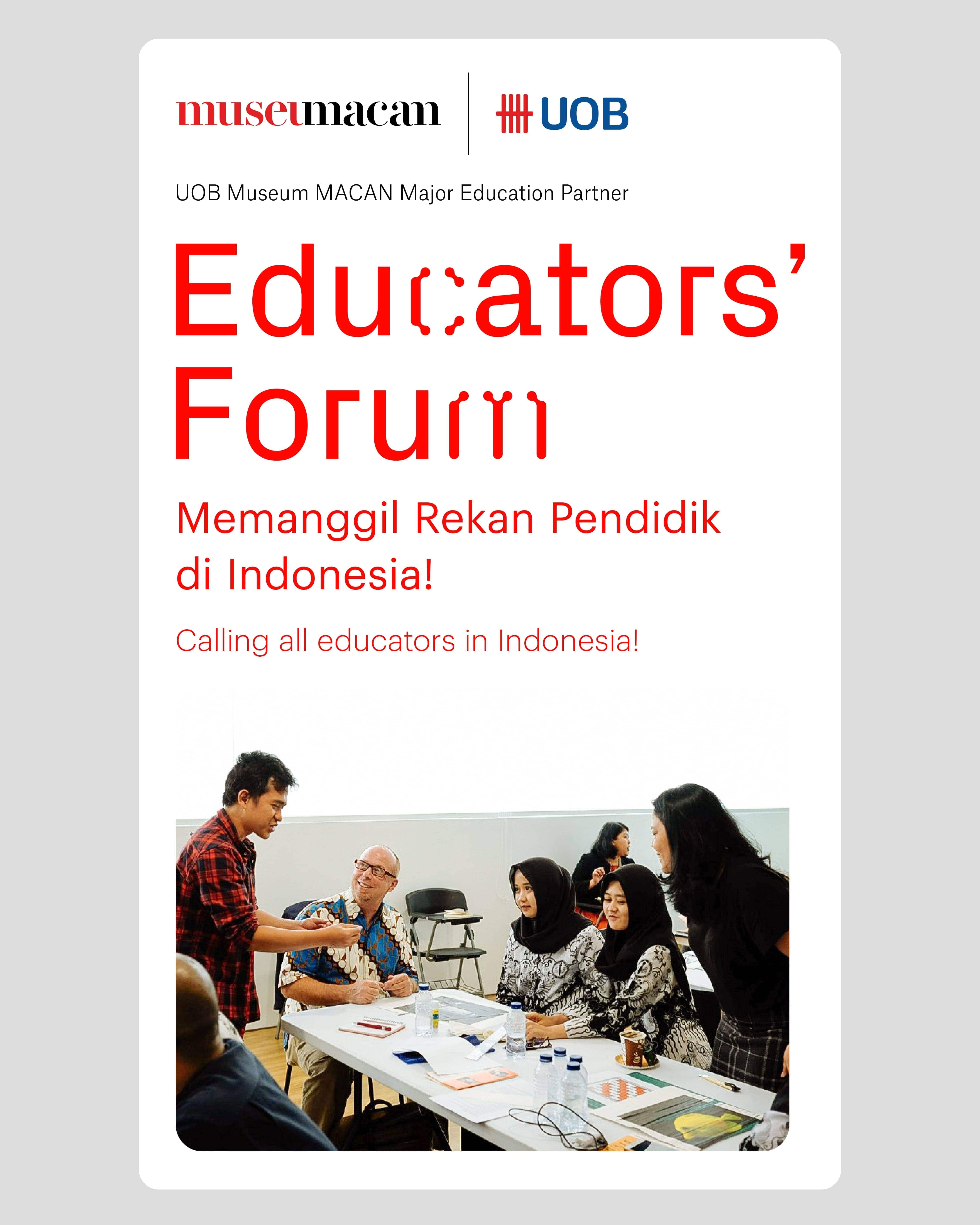 Educators' Forum
Mapping the Future: Art Education 2021 – 2022
Museum MACAN calls all art educators in Indonesia to join our twice-yearly gathering: Educators' Forum. In this seventh edition, educators are invited to present their art education strategy in breaking the challenges during pandemic and post-pandemic.
About the Program
Educators' Forum is a twice-yearly gathering for art educators from all levels, and provides a platform for discussions that center on teaching art in the classroom. The focus group provides behind-the-scenes access to curators, artists, and the Museum's collection. The gathering is free and open to educators across Jakarta and Indonesia.

The 7th Educators' Forum will be held on Thursday 17 September 2020 at 09.30 – 12.30 (GMT+7). The event features Stephanie Hardjo (Education Technology Professional), Citra Sasmita (artist), and Radinka Qiera (Education Management Professional) as speakers. Opening remarks will be presented by Dr. Restu Gunawan, M.Hum. (Direktur Pengembangan dan Pemanfaatan Kebudayaan, Kementerian Pendidikan dan Kebudayaan).

Click the button below to register as Participant or scroll down to read more about the open call for Educators' Forum Presenter!

Register Now!
Open Call
In this special edition of Educators' Forum, Museum MACAN invites pairs of cross-generation educators to present their ideas about the future of education, especially art education in Indonesia. Your perspective and opinions are certainly related to your experience and your teaching environment.

We would like to hear the strategies of millennial educators working hand-in-hand with senior educators in breaking the challenges during pandemic and post-pandemic.

"How does this collaboration see and map the future of education during this challenging situation?"
Terms and Conditions
1. Presentation should be delivered in pair with your teaching associate from different generation (with minimum 10 years of age range);
---
2. At least 2 years of art teaching experience;
---
3. Maximum duration for presentation is 5 minutes;
---
4. The format of presentation will be in Powerpoint files with maximum of 7 slides (including opening and ending pages);
---
5. Presentation is delivered in proper Bahasa Indonesia;
---
6. The presentation themes are related with art education and art teaching method in each institution (challenges and solution);
---
7. The presentation must not allude particular gender, religion, race and ethnicity and is not against the policy of the committee;
---
8. Educators from outside Java are prioritized;
---
9. If selected, presenters are required to attend an online trial session with Museum MACAN team and other presenters;
---
10. Selected presenters will receive e-certificate dan gift of appreciation from Museum MACAN;
---
11. Registration is open until 14 September 2020 at 18.00 WIB (GMT+7).

*Registration has been closed
Speakers
Stephanie Hardjo
Education Technology Professional

Stephanie obtained her Bachelor of Social Sciences (Hons.) in Economics from National University of Singapore (NUS) and her Masters of Education (Ed.M.) from Harvard Graduate School of Education, both on scholarships. Her key experiences are in EdTech product development, teachers' professional development, curriculum development, and project management. She previously led the Teachers Training Institutes (LPTK) initiatives at Tanoto Foundation where she was in charge of developing training and mentoring programs for over a thousand partner teachers and lecturers.

Beyond K-12 education, she was also experienced in developing inquiry-based training curriculums for poultry farmers and fresh graduates in collaboration with Japfa Foundation and leading the Indonesia go-to-market strategy for a Japanese IT giant, working from Tokyo HQ office.
---

Citra Sasmita
Artist

Citra Sasmita was born in Tabanan in 1990, has been in touch with the art world since young through books and comics she read. Her hobby then inspires her to write poems, short stories, and paint figures from her imagination. Having educational background in humanities and science, Citra enrolled in two different departments, English Literature and Physics. These two field of knowledge affect her work process in analyzing social phenomenon and viewing it rationally.

Citra paints on a variety of mediums, ranging from canvas to leather. In her solo exhibition titled Under the Skin (2018), she created an installation consisted of vegetable fibers that had been woven together. Her work represents a braid of human hair in which she incorporated mythical reference from the story of Drupadi in epic of Mahabharata to symbolize female resistance in the face of ongoing efforts to suppress women.

In Ode to The Sun, the third part of the Timur Merah Project that Citra previously presented in Biennale Jogja XV 2019, she criticizes the world of traditional Balinese literature which has historically confined itself to celebrate the exploits of male aristocrats while excluding female voices. Invoking a Balinese past characterized by the existence of powerful female rulers such as the 19th century queen, Dewa Istri Kanya, Citra transforms classic narratives of war and romance by imbuing them with a female perspective.

She has participated in various exhibitions such as Merayakan Murni, Sudakara Artspace Sanur Bali (2016), Mabesikan Project, Art for Social Change Presentation, Jakarta (2017) and Synthesis (Wonders of Indonesia), Bulgaria, (2019). In 2017, she was awarded the Gold Award after winning the UOB Indonesian Painting of the Year competition.
---

Radinka Qiera
Education Management Professional

Radinka Qiera started her career in education as the General Manager of Business Development for Sekolah Cikal, responsible for market research, feasibility studies, projections, and school design development. Currently Radinka is the Chief Operating Officer at Sekolah.mu, a collaboration hub for digitally integrated learning programs curated for students, teachers, and parents which provides variety of competency-based programs ranging from preschool to university level.

Radinka graduated from Architectural Engineering, ITB (Institut Teknologi Bandung). On the same year of her graduation, Radinka participated in Global Internship Exchange, teaching art, sustainability and culture for primary and secondary school children at Lviv, Ukraine, and contributed in Green Wave Project, AIESEC Indonesia. Before pursuing her career in education, Radinka worked at PT Toyota Astra Motor and Colliers International.
Presenters
Putra Murdani, S.Pd. | Galeri Nasional Indonesia
Irma Wiyati, S.Pd. | SMPN 119, Jakarta

---
Muhammad Fauzan Arifin, S.T.
Yudha Prihantanto, S.Pd.
SMK Bayt Al-Hikmah Pasuruan, Jawa Timur

---
Dwi Yunizal, S.Pd. | Kinderfield Highfield School, Bekasi
Hesti Rosita Dwi Putri S.Pd., M.Ds. | SMPN 2 Rantau Alai, Sumatera Selatan

---
Hastuti, S.Pd., MM. | SMPN 105, Jakarta
Kristian Winindyatama, S.Pd. | SMPN 223, Jakarta
Contact
Click the button below if you have any questions regarding this program!

Contact Us
Sign up to the Museum MACAN newsletter
Keep up to date with all that
Museum MACAN has to offer
and receive a monthly newsletter
for upcoming exhibitions
and public programs.