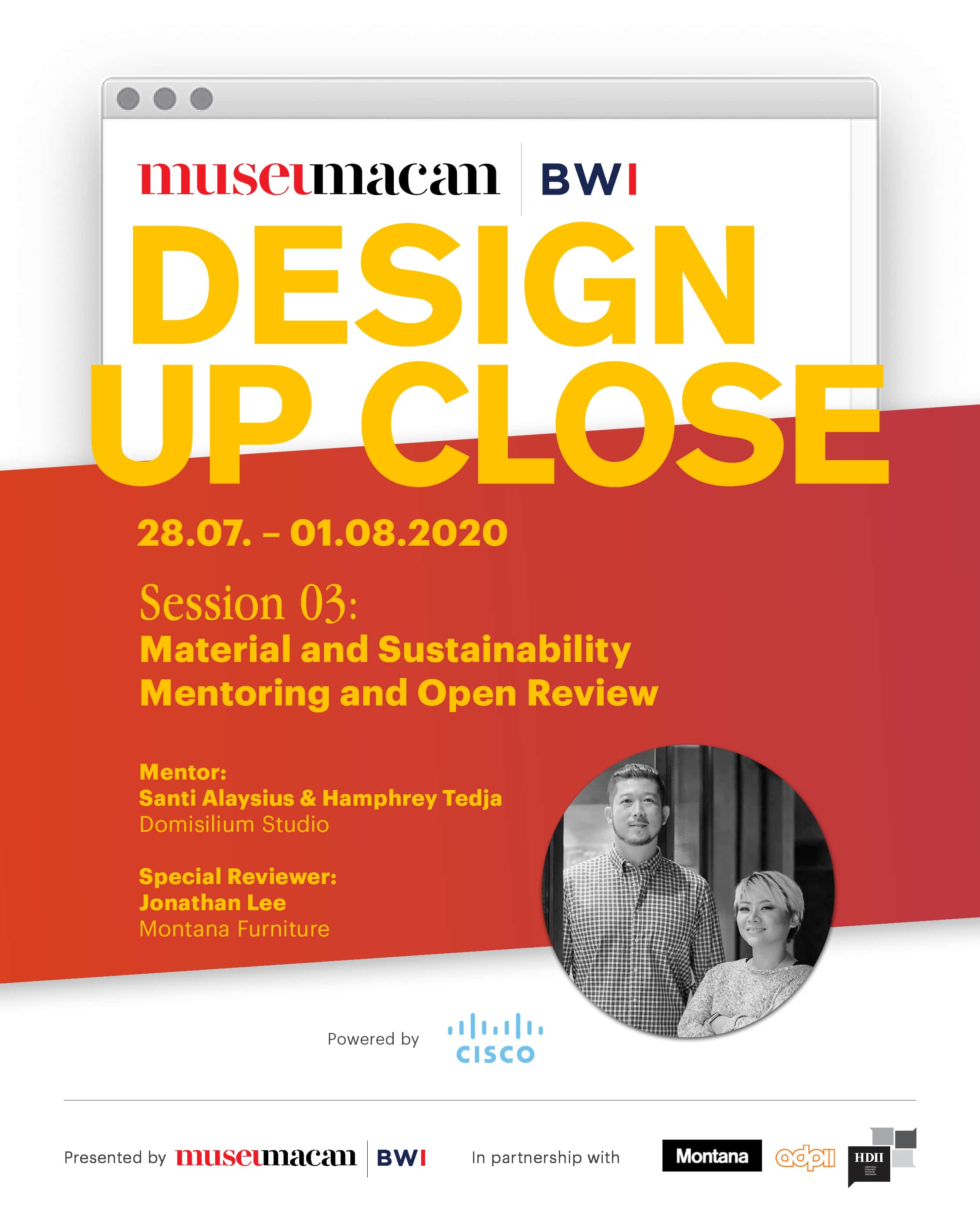 Talk
Design Up Close Session 03: Material and Sustainability | Mentoring and Open Review with Domisilium Studio
Museum MACAN and BWI present Design Up Close — a new program series dedicated to the practice and theory of design. In this session, Santi Alaysius and Hamphrey Tedja of Domisilium Studio will guide participants in sustainable design thinking and green design ecosystem
About Design Up Close
Museum MACAN and BWI present Design Up Close — a new program series dedicated to the practice and theory of design. Creating links between global designers and local design issues, the program consists of a regular keynote lecture paired with a mentoring and open review program led by design professionals.
Over 2020, there will be six key topics: Design and Contemporary Lifestyle; Mastering Space; On Color: Scheme and Pantone; Material and Sustainability; Wellness and The Design Forecast.
A regular Keynote Lecture presents international interior and product designers who will share their knowledge and perspective on a key topic, how they and other designers respond and transform it into a design. The program will be moderated by Indonesian design professionals and paired with a Mentoring and Open Review program.
The Mentoring and Open Review program will be a 2-day mentoring session that thematically responds to the Keynote Lecture, led by Indonesian design professionals. The first day is a closed session for participants, followed by an idea review, presented as an open session that will be open to the public.
This year, Design Up Close provides six opportunities to see, hear, learn and participate in this exciting new program — students and emerging design practitioners are encouraged to apply to upcoming open calls.
Design Up Closes Session 03 is organized in partnership with Montana Furniture. Supported. by Himpunan Desainer Interior Indonesia (HDII), and Aliansi Desainer Produk Industri Indonesia (ADPII). This program is powered by Cisco.


---

Session 03: Material and Sustainability
Material and Sustainability
Scandinavian design culture that is practiced across the Nordic countries, focuses on timeless design. Different with the situation in Indonesia, despite being blessed with resources that allows a broad range of material options, yet is still facing exploitation of natural and human resources. Unknown to us, the fast, easy and cheap consumerism is feeding fast furniture cycle in Indonesia, distancing designer and business owners even further away from sustainability.
How do designers introduce and practice mindful design to maintain the chain of sustainability? What is the role of empathy and wellbeing in managing our current resources?
This session proposes the way we can become a part of sustainability and green ecosystem force. The process of understanding and selecting the right materials with the right design will not only create new meaning, but also prompting positive social, environmental, as well as economic and political changes. A correct and careful design and material exploration requires goodwill, commitment and integrity of the individuals behind it.
This mentoring session will be led by Santi Alaysius and Hamprey Tedja from Domisilium Studio. Partnering with Montana, a legendary Danish furniture brand who is committed to carry sustainability in its products, this session offers an opportunity to the participants to explore design from mindful mindset, thorough process, to considering the wellbeing aspects that have big influence in sustainability.

Design Up Close mentoring session will run from 28 – 30 July 2020 (closed sessions), followed by a public review and discussion on 1 August 2020.

These sessions will be presented online, with Open Call registration details to follow under this page.
Mentor
Mentor: Domisilium Studio
Interior Design Firm

Domisilium Studio is an Indonesia-based interior design firm with a wide range of expertise in custom residential, hospitality and commercial projects. Serving as the Principal of Interior Design, Santi Alaysius has been an award-winning professional Interior Designer for over a decade. Some of her notable projects are USA Pavilion for World Expo in Japan, the residence of superstar Jennifer Lopez in Long Island, New York, USA, and the first design hotel in Indonesia, Kosenda Hotel. Hamphrey Tedja, Principal of Architecture, Domisilium Studio PLC, earned a Professional Bachelor's Degree in Architecture from Illinois Institute of Technology in Chicago. He worked for a couple of local commercial and residential development firms as well as doing corporate interior and hospitality work in Chicago before returning home to co-found Domisilium Studio in Jakarta in 2009.
Special Reviewer
Special Reviewer: Jonathan Lee
Director of Asia Pacific Region
Montana Furniture

Montana Furniture is a family-owned company established in 1982, leading within storage and furniture for private home and contemporary office spaces. The company is founded by Peter J. Lassen, who is also the designer of the Montana system.

Montana Furniture takes environmental responsibilities seriously. Over 25 years ago, Montana Furniture introduced their own set of environmental accounts in consultation with The Danish Environmental Protection Agency. The Montana Furniture shelving modules carry the EU Ecolabel, the Danish Indoor Climate Label, the ISO 14001 (environmental) and OHSAS 18001 (occupational health and safety) standards. Further, Montana Furniture became one of the first Danish business to run 'cradle-to-grave' analyses of the environmental consequences of a given product.
Open Call
Open Call Criteria
1. 18 – 35 years old;
2. Design student, emerging designers or design enthusiasts with 5 years or less working experience;
3. Passionate about design;
4. Pursuing various roles of career path in design field and its ecosystem;
5. Emerging designers and architects, design and architecture students, as well as design enthusiasts are encouraged to apply.

Required documents for mentees
1. Indonesian ID card (KTP)/KITAS;
2. Curriculum Vitae;
3. Portfolio of work related to design (design, ideas, writings, programs, etc.), max 5 pages, best 5 designs or works.

Requirements
1. All participants must attend a 3-day online mentoring session (28 – 30 July 2020);
2. All participants are required to present their ideas during Open Review (1 August 2020) and present a maximum of 3 slides in 3 minutes on 1 August 2020.

Register now

*Registration is open until Sunday, 26 July 2020 at 17.00 WIB (GMT+7).
Schedule
Mentoring — Day 1
Tuesday, 28 July 2020
14.00 – 16.30 WIB
---
Mentoring — Day 2
Wednesday, 29 July 2020
14.00 – 16.30 WIB
---
Mentoring — Exercise Session
Thursday, 30 July 2020
14.00 – 16.30 WIB
---
Open Review
Saturday, 1 August 2020
14.00 – 17.00 WIB
Contact Us
Click on the button below for further information about this program!
Sign up to the Museum MACAN newsletter
Keep up to date with all that
Museum MACAN has to offer
and receive a monthly newsletter
for upcoming exhibitions
and public programs.