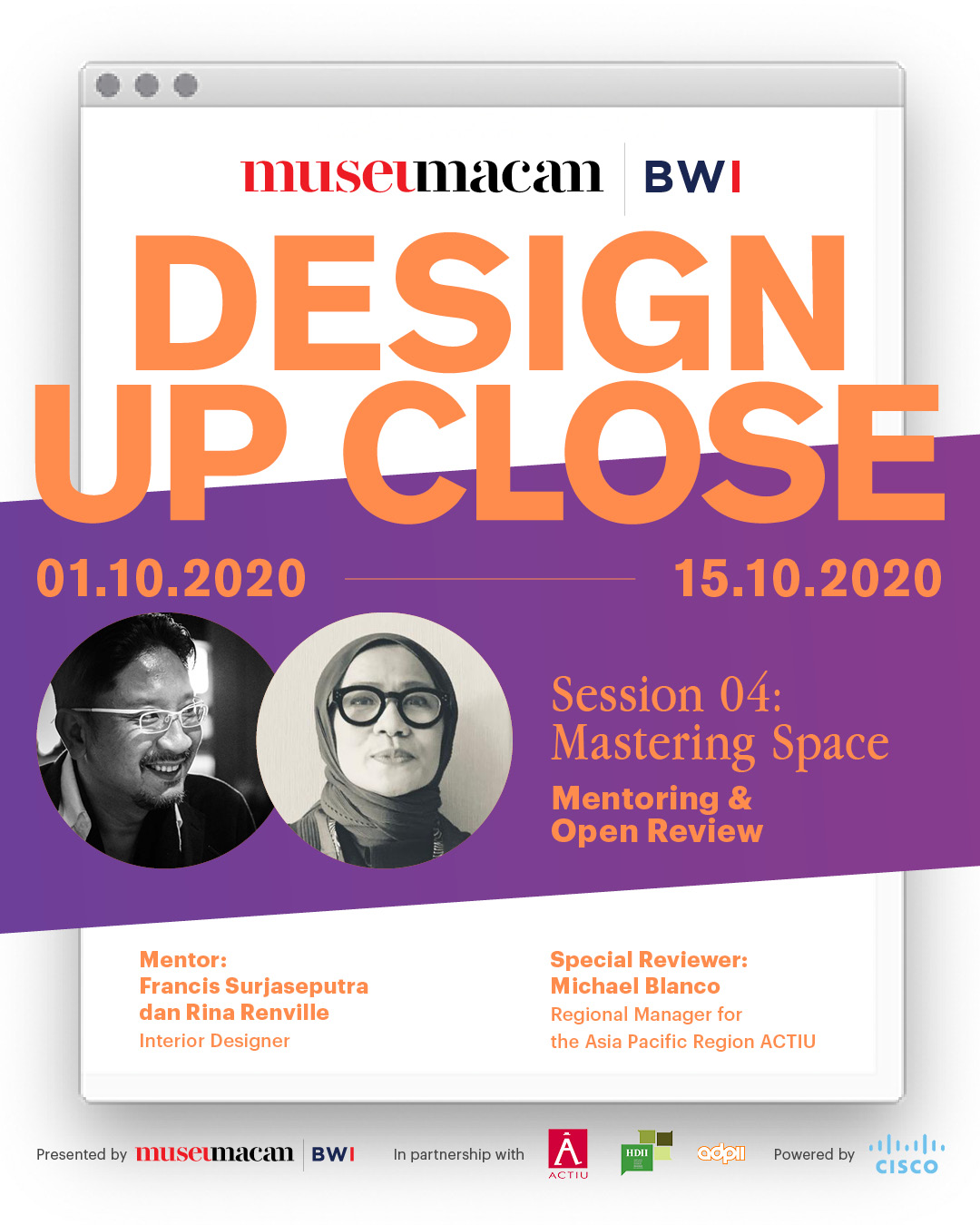 Talk
Design Up Close Session 04: Mastering Space | Mentoring and Open Review with Francis Surjaseputra and Rina Renville
Museum MACAN and BWI present Design Up Close — a new program series dedicated to the practice and theory of design. In this session, interior designers Francis Surjaseputra and Rina Renville will guide participants on space as essential element in design.
About Design Up Close
Museum MACAN and BWI present Design Up Close — a new program series dedicated to the practice and theory of design. Creating links between global designers and local design issues, the program consists of a regular keynote lecture paired with a mentoring and open review program led by design professionals.
Over 2020, there will be six key topics: Design and Contemporary Lifestyle; Mastering Space; On Color: Scheme and Pantone; Material and Sustainability; Wellness and The Design Forecast.
A regular Keynote Lecture presents international interior and product designers who will share their knowledge and perspective on a key topic, how they and other designers respond and transform it into a design. The program will be moderated by Indonesian design professionals and paired with a Mentoring and Open Review program.
The Mentoring and Open Review program will be a 2-day mentoring session that thematically responds to the Keynote Lecture, led by Indonesian design professionals. The first day is a closed session for participants, followed by an idea review, presented as an open session that will be open to the public.
This year, Design Up Close provides six opportunities to see, hear, learn and participate in this exciting new program — students and emerging design practitioners are encouraged to apply to upcoming open calls.
Design Up Closes Session 04 is organized in partnership with ACTIU. Supported. by Himpunan Desainer Interior Indonesia (HDII), and Aliansi Desainer Produk Industri Indonesia (ADPII). This program is powered by Cisco.


---

Session 04: Mastering Space
Mastering Space
Space is an essential element in design. It will give different experience depending on its dimension, existence of objects, or the movability in it. Space can be used both to separate and to connect different elements in design. By managing and forming space in our designs, we can create rhythm, direction, and motion.

Some people, especially business owners, have the tendency to fill up a space to get the full benefit out of it. However, in this current situation, space becomes very important to emphasize physical distancing. How does space management can contribute to virus prevention, especially for communal spaces and public spaces that require high social interactions? How do designers manage space without overriding the aesthetic elements?
This mentoring session will be led by interior designers Francis Surjaseputra and Rina Renville in partnership with ACTIU.

Design Up Close mentoring and exercise sessions will run for three days between 1, 5, and 8 October 2020 (closed sessions), followed by a public review and discussion on 15 October 2020.

These sessions will be presented online, with Open Call registration details to follow under this page.
Mentors and Special Reviewer
Mentor: Francis Surjaseputra
Interior Designer

Francis Surjaseputra is an interior designer based in Indonesia. He received his foundation degree in Arts and Design from Bath College of Art and Higher Education, United Kingdom, and Bachelor of Fine Arts in Interior and Environmental Design from Parson School of Art and Design, Paris. Upon his return to Indonesia, he had his first design project 'Center for the Art of Living' in Desa Juwuk Legi Bali. Francis worked for PT Atelier 6 Interior in 1993, before founding his own firm in 2002, PT Axon Sembilan Puluh. Francis was the Chairman of Himpunan Desainer Interior Indonesia (2013–2015) and the Chairman of Asia Pacific Space Designers Association (2012–2014).
---
Mentor: Rina Renville
Interior Designer

Rina Renville graduated with a Bachelor in Interior Design from Institut Teknologi Bandung. She worked for an interior firm in Singapore before opening her own firm, DeStijl Cipta Kreasi in 2001. One of her notable work is RSIA Kemang that was awarded Interior Design of the Year- Commercial Livingetc Indonesia Design Awards 2010 and Asia Pacific Interior Design Awards for Elite "Excellent Award" — Professional Excellence in Interior Design Commerce Category 2009. Rina also founded Anja Furniture, a designer collective with passion in furniture, as well as CoLab, a collaborative project to showcase local designers' work. She joined Research Team and Book Trend Forecasting ITF Bekraf 2017–2020. Rina is currently the Chairwoman of Himpunan Desainer Interior Indonesia (2019–2021).
---
Special Reviewer: Michael Blanco
Regional Director for the Asia Pacific Region
ACTIU

For years at Actiu we have decided to place the spotlight on people. We are looking for the right way to provide more well-being in order for people to live better, always from our use of creativity and capacity for furniture manufacturing. We are creating spaces that, by way of design, are efficient, comfortable and functional so that everybody can be their best self. This is both inside, looking at individuals' well-being, and outside, with comfort architecture that aims to sustainably manage resources, having a lower impact on the environment.

Actiu is primarily committed and the first industrial complex to achieve the LEED Certificate. Actiu is also committed to the Well Certification and become the fifth industry in the world to obtain the Well C.2 Platinum Certification, the second in Europe and the first in Spain. And this, along with the LEED Platinum Certification obtained in 2017, makes Actiu the first global industry to have both certifications.
Open Call
Open Call Criteria
1. 18 – 35 years old;
2. Design student, emerging designers or design enthusiasts with 5 years or less working experience;
3. Passionate about design;
4. Pursuing various roles of career path in design field and its ecosystem;
5. Emerging designers and architects, design and architecture students, as well as design enthusiasts are encouraged to apply.

Required documents for mentees
1. Indonesian ID card (KTP)/KITAS;
2. Curriculum Vitae;
3. Portfolio of work related to design (design, ideas, writings, programs, etc.), max 5 pages, best 5 designs or works.

Requirements
1. All participants must attend all online mentoring session (1, 5, 8 October 2020);
2. All participants are required to present their ideas during Open Review (15 October 2020) and present a maximum of 3 slides in 3 minutes on 16 October 2020.

Register now

*Registration is open until Tuesday, 29 September 2020 at 18.00 WIB (GMT+7).
Schedule
Mentoring — Day 1
Thursday 1 October 2020
15.00 – 18.00 WIB
---
Mentoring — Day 2
Monday 5 October 2020
15.00 – 18.00 WIB
---
Mentoring — Exercise Session
Thursday 8 October 2020
15.00 – 18.00 WIB
---
Open Review
Thursday 15 October 2020
18.30 – 20.30 WIB
Contact Us
Click on the button below for further information about this program!
Sign up to the Museum MACAN newsletter
Keep up to date with all that
Museum MACAN has to offer
and receive a monthly newsletter
for upcoming exhibitions
and public programs.